PD-L1 analysis of CTC populations
Programmed death-ligand 1 (PD-L1) can allow cancers to evade the host immune system when upregulated. PD-L1 inhibitors have shown some excellent therapeutic results in multiple cancers, but do not work for all patients. The up-regulation of PD-L1 is dynamic and cannot be adequately represented by a static tumour tissue biopsy sample. Measurement of PD-L1 on CTCs offers the potential for non-invasive and hence repeat analysis of PD-L1 status.
ANGLE has a standardised and fully integrated workflow for the enumeration of CTCs together with their PD-L1 expression.  The workflow integrates:
ANGLE's Parsortix system for CTC capture
Our CTC/ PD-L1 antibody kit
Bioview imaging solutions for detection and analysis of the CTCs.

How the service works:
Send your patient blood samples to one of our labs in BD K2EDTA tubes.
Samples will be processed by ANGLE within 24 hours.
Images of captured and characterised CTCs shared via secure cloud.
Report for each sample processed is shared back with you.
For more information and to discuss your needs, contact us on EUsales@angleplc.com or NAsales@angleplc.com
Example images of PD-L1 positive CTCs from patient blood samples
Breast cancer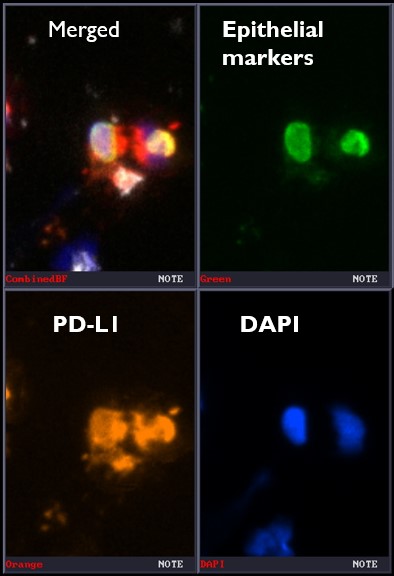 Lung cancer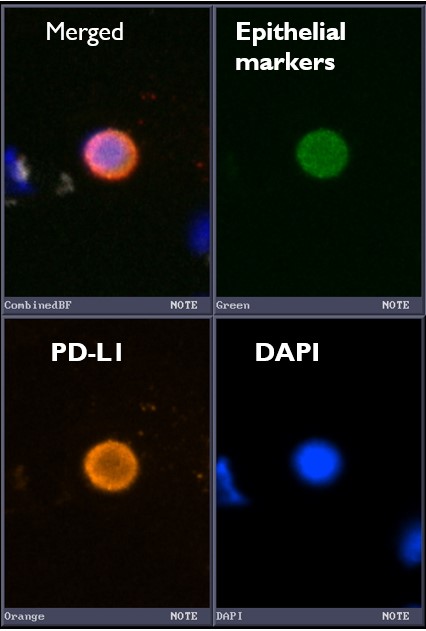 Melanoma