Breast Cancer
Research Use Only – Not For Use In Diagnostic Procedures.
Breast cancer is the most commonly diagnosed form of cancer in women worldwide. Nearly 2.3 million were newly diagnosed with breast cancer in 2020. This represents about 25% of all cancers in women and is about 12% of all new cancer cases.
When breast cancer has spread to distant organs gaining new biopsies of the metastatic sites can be difficult if not impossible.
ANGLE is currently working with researchers to prove that the characterization of circulating tumor cells can provide equivalent if not greater information than a biopsy of a metastatic site.
If you are interested in collaborating with ANGLE's research team in breast cancer, please click here.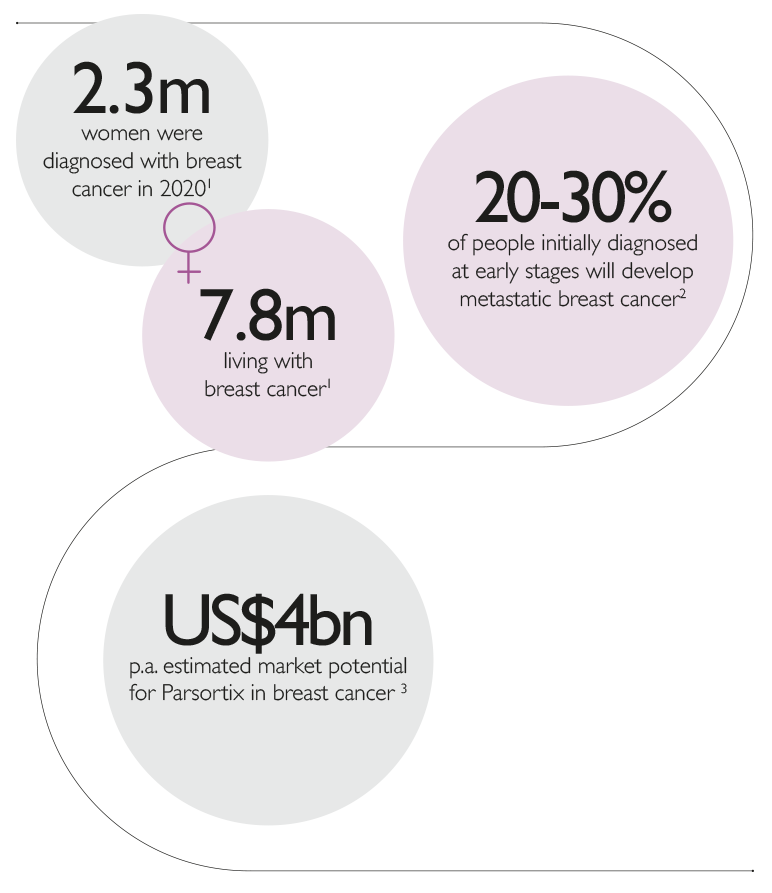 ANGLE's work with University of Southern California Norris Comprehensive Cancer Center
The University of Southern California Norris Comprehensive Cancer Center (USC) presented headto-head
patient data at AACR 2016 (the American Association for Cancer Research Annual Meeting 2016), which demonstrates a statistically significant correlation in metastatic breast cancer between analysis of CTCs (circulating tumor cells) harvested from a simple blood test using Parsortix with similar analysis of tissue obtained from invasive biopsy of a secondary cancer site. The data indicates the potential for the Parsortix liquid biopsy (simple blood test) to replace the invasive biopsy.
In the USC study, the tissue from the invasive biopsy and the CTCs from the Parsortix liquid biopsy harvest were both subjected to Illumina's whole-transcriptome analysis using total RNA sequencing (RNA-Seq). RNA-Seq can accurately measure gene and transcript abundance, and identify known and novel features of the transcriptome. RNA-Seq analysis has been completed on three sample types covering metastatic tissue biopsy, Parsortix harvested CTCs and, as a control, peripheral blood for each of eight patients. This strategy enables measurement of thousands of genes at once in order to generate a comprehensive picture of cellular function.
For every one of these patients, CTCs were successfully harvested and RNA-Seq analysis successfully completed. This analysis demonstrated a statistically significant correlation between the expression signature of 192 genes in the Parsortix harvested CTCs with similar analysis of tissue obtained from an invasive biopsy of a secondary cancer site.
The metastatic biopsy material was sourced from a wide range of metastatic sites including skin, pleural effusion (fluid around the lung), pericardial effusion (fluid around the heart), breast, cerebrospinal fluid (fluid found in the brain and spine) and bone tissue. For all of these different
metastatic sites, the Parsortix CTCs provided similar gene expression compared to the metastatic biopsy, allowing for the potential examination of known and novel genes related to breast cancer.
Replacement of the metastatic biopsy for breast cancer with a Parsortix blood test would be non-invasive, cheaper and faster, and could be repeated more frequently, thereby providing "real-time" information for therapy selection reflecting disease progression.