Ovarian Cancer
Research Use Only – Not For Use In Diagnostic Procedures
Ovarian cancer is the seventh most common cancer in women worldwide and the 18th most common cancer overall.  * (2012- World Cancer Research Fund International.  www.wcrf.org)  The highest incidence rates of ovarian cancer were in Europe and Northern America.
It is estimated that in 2021, in the United States about 21,000 women will receive a new diagnosis of ovarian cancer and about 13,800 women will die from ovarian cancer.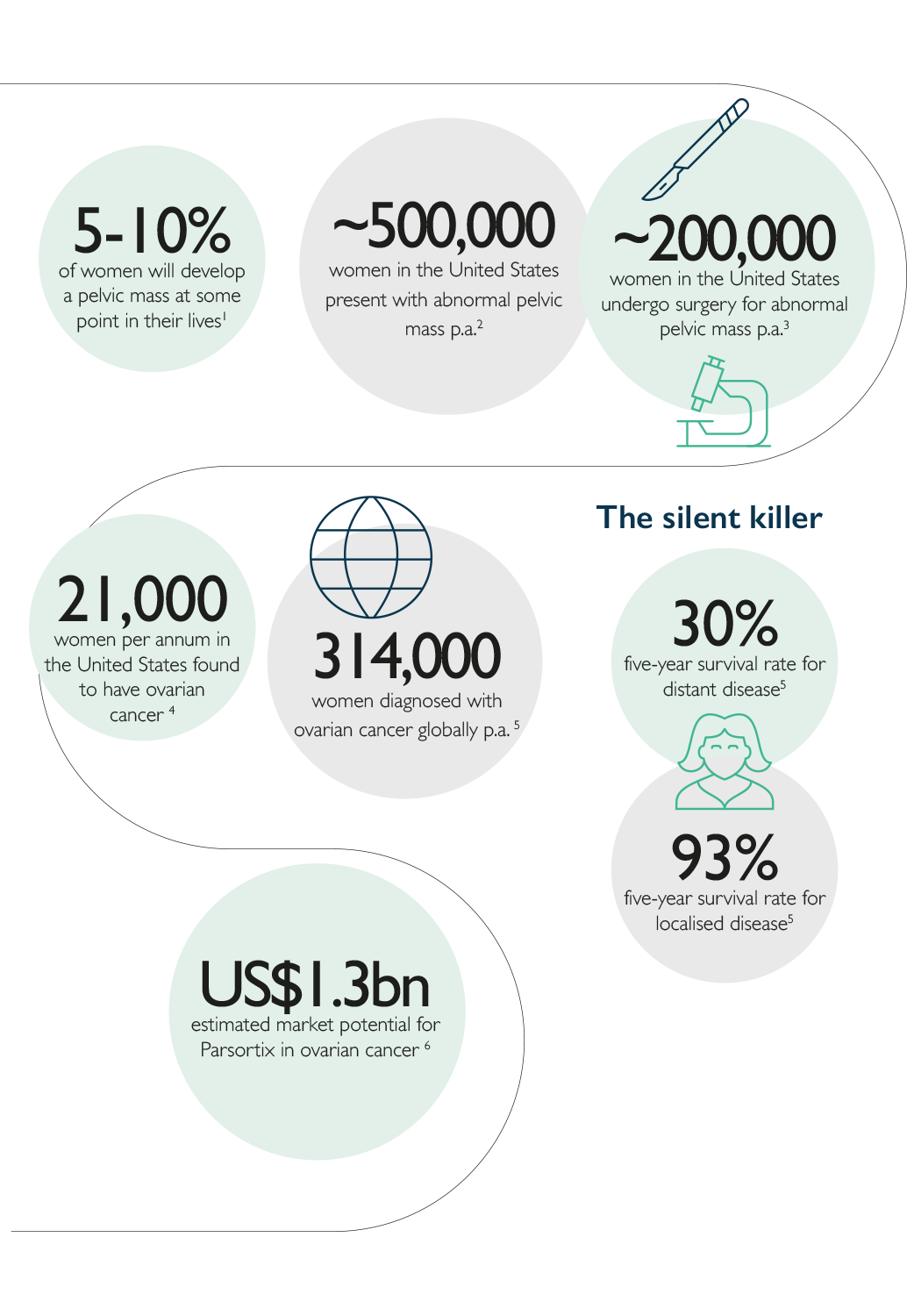 ANGLE is currently undertaking two major clinical studies to develop a Parsortix-based test that distinguishes between a benign and malignant pelvic mass.
The test is intended to detect ovarian cancer ahead of surgery to ensure women get the best possible treatment.
The four participating cancer centres for the 200 patient European study, all of whom have been through formal study initiation and training and are actively recruiting patients, are:
Medical University of Vienna, Key Opinion Leader for ovarian cancer, leading the trial and responsible for analysing the patient samples and optimising the RNA markers
Charité – Universitätsmedizin Berlin, one of the largest university hospitals in Europe
Vivantes Network for Health GmbH with the Clinic for Gynecology and Obstetrical Medicine in the Klinikum Auguste Viktoria
Vivantes Network for Health GmbH with the Department of Gynecology, Hospital Neukölln
Based in Berlin, Vivantes Network for Health GmbH is the largest municipal hospital group in Germany, and the two clinics listed above are within their two largest hospitals.
ANGLE is also undertaking a 200 patient ovarian cancer study in the United States which is actively recruiting. The US study is being led by Dr Richard Moore at the University of Rochester Medical Center Wilmot Cancer Institute (New York State).
Ovarian cancer surgery is highly complex and maximal tumor removal has a very strong impact on survival. Women with the diagnosis of ovarian cancer can be referred for surgery to specialists in gynaecologic oncology. The consequence is a significantly better outcome compared to the situation when surgery is performed by a general gynaecologist and cancer is diagnosed at this point. There would therefore be great clinical benefit if it were known in advance of surgery that an abnormal pelvic mass is malignant. Conversely, women with benign pelvic mass may be treated more easily and cost effectively by a general surgeon in their local hospital.