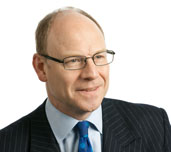 Andrew Newland
Chief Executive
Andrew Newland is Chief Executive of ANGLE plc. He has an MA in Engineering Science from the University of Cambridge and is a qualified Chartered Accountant. He has 18 years of medical diagnostics experience and has specialised in the liquid biopsy space for the last nine years.
He has led the development of technology-based businesses based on strong intellectual property for over 28 years and for the last 18 years he has been Chairman or on the Board of several specialist medical technology companies. After working with the engineering conglomerate, TI plc, he worked for KPMG from 1982 to 1994; from 1985 to 1987 he was based in the US as a manager providing corporate finance and business advice to high technology firms in the area around Route 128, Boston, Massachusetts. During this time, he led KPMG's involvement in the IPO of the medical technology company Cardio Data Inc. From 1987 to 1994 he worked for KPMG in the UK with responsibility for establishing KPMG's UK and European High Technology Practices and High Technology Consulting Group.
Andrew founded ANGLE in 1994. In 1999, Andrew led the team that founded the medical diagnostic company, Acolyte Biomedica. Acolyte was the first ever spin-out of the Defence Science and Technology Laboratory (Dstl) Porton Down, which specialised in rapid diagnosis of MRSA the 'hospital super-bug'. Andrew chaired the company for several years and successfully led the company through three major rounds of venture capital investment. Andrew also founded Provexis, the first ever spin-out of Rowett Institute, Europe's leading nutrition research institute. Andrew chaired the Board of Provexis, a specialist nutraceutical company with a heart-health product, through to its successful flotation in 2005.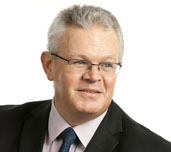 Ian Griffiths
Chief Financial Officer
Ian Griffiths is the Finance Director of ANGLE plc. He has specialised in technology commercialisation for over 30 years and is an expert on the development and growth of new technology-based businesses. Ian has a BSc in Mathematics with Management Applications from Brunel University and is qualified as a chartered accountant. For seven years he worked for KPMG, initially in accountancy with a special work focus, then in management consulting within KPMG's High Technology Consulting Group where he specialised in financial modelling, business planning, corporate finance, market development and strategy work.
Ian joined ANGLE in 1995. As well as leading the finance function at ANGLE plc, he has been closely involved with the development and delivery of the former UK, US and Middle East Consulting and Management services businesses and in developing new Ventures, both third-party and ANGLE's own. Ian has been heavily involved in the start-up phase and also the ongoing development of ANGLE's own ventures by working closely with management on business plans, financial and operational management, fund raising and commercial aspects, including both medical and physical sciences companies. He is currently leading the financial development of ANGLE's major medical diagnostic business Parsortix.
Brett Swansiger
Chief Commercial Officer
Brett Swansiger is Chief Commercial Officer for ANGLE, and is responsible for managing pharma and clinical services sales and building corporate partnerships globally, and for guiding US research and clinical sales and payer engagement. He also supports the products business teams responsible for sale of products via direct sales and through distributors.
Brett has over 20 years of commercial leadership, international business development, business to business sales, and U.S. managed care contracting experience within the molecular diagnostics and pharmaceutical industries. Brett started his career within the life science industry back in 1998 working for Bristol Myers Squibb in their neuroscience and infectious disease division. After departing Bristol Myers Squibb, Brett joined a startup specialty diagnostic and pharmaceutical company, Prometheus Laboratories, where he held multiple commercial positions over his 12-year tenure, responsible for sales training, field sales leadership, and payer engagement. In 2013 Brett was recruited by Agendia Inc., a Netherlands based start-up, to build out their US payer engagement and Asia market access strategies, responsible for implementing positive medical policies, payer contracts with all major US payers, and executing distribution agreements throughout SE Asia. Then in 2016, Brett was recruited by MDxHealth, a multinational esoteric urologic oncology laboratory where he was again responsible for building out their US payer engagement strategy. During his five year tenure, Brett held numerous commercial leadership positions including VP Managed Care and Strategic Accounts, SVP Business Development and European Sales, Interim CCO, and SVP of US Sales and Business Development. Most recently, Brett was CCO at DxTerity Diagnostics, a Los Angeles based precision medicine company pioneering the use of RNA-based precision medicine where he was responsible for building out DxTerity commercial organization, business to business, and payer strategies. Throughout his career Brett managed sales organizations in both the US and Europe, has launched over 20 proprietary specialty diagnostic assays, executed 12 international market deals, executed 100+ US payer contracts, and over 200 business to business clinical testing service contracts. Brett is a U.S. Army Veteran, having served as a member of the 1st Battalion 12th Field Artillery on both active duty and as a member of the US Army reserve. Brett volunteers his time with multiple veteran charities and mentoring university business students.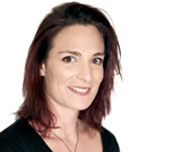 Anne-Sophie Pailhes-Jimenez
Head of R&D
Anne-Sophie Pailhes-Jimenez is the Head of R&D at ANGLE Europe. She joined ANGLE in 2016 and is responsible for all R&D laboratory activities and projects. She has over 13 years of experience in cell biology and cancer research in the biotech and biopharma space.
An expert in cellular biology and immunofluorescence technology, Anne-Sophie has been managing multiple projects to develop downstream assays including immunofluorescence staining, and leading R&D activities on further characterization of CTCs. Previously, she worked as senior scientist for 6 years at the Gustave Roussy Institute in Paris, France where she gained a wealth of experience in cellular biology in the oncology area. Before joining ANGLE, Anne-Sophie managed the biology team at a biopharmaceutical company that focused on the development of innovative immunotherapy solutions for cancer treatment. Anne-Sophie has an MSc in biotechnological engineering specialising in molecular biology from the Institut National des Sciences Appliquées de Toulouse (INSA Toulouse).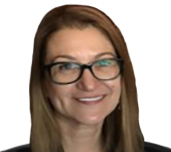 Madeline Repollet
Head of Clinical Laboratories
Madeline Repollet joined ANGLE in 2020 as the Head of Clinical Laboratories. Dr. Repollet holds a PhD in Health Care Administration, a MS in Quality Assurance & Regulatory Affairs and a BS in Biology. She is Board Certified as a Cytotechnologist by the American Society for Clinical Pathology.
Madeline started her career working as a Cytotechnologist and managing Pathology Laboratories in Puerto Rico and Minnesota. In 1999, she joined Immunicon, where she worked for R&D, Engineering and Clinical Development.  Madeline is co-developer of the CellSearch® CTC definition, establishing the first CellSearch® training program and managing laboratory logistics for the clinical studies that obtained De Novo clearance for CellSearch®.   
Madeline has more than 30 years of clinical lab experience, 21 of those in the liquid biopsy space. Madeline has years of global laboratory management experience, working with clinical laboratories in the US, The Netherlands, Belgium and Italy.  During that time, Madeline established clinical laboratory quality management systems compliant with CLIA and ISO 15189 and obtained licenses from the States of Pennsylvania, California, New York, Florida, Rhode Island and Maryland.
Madeline is co-author in several circulating tumor cells publications and holds two patents in those technologies.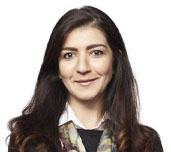 Ghada Abuali
Associate Commercial Director
Ghada Abuali is an Associate Commercial Director at ANGLE plc and responsible for various corporate and commercial activities. Dr Abuali has a PhD in cancer research from Imperial College London, an MBA from Imperial Business School, and an MSc in Molecular Diagnostics from University of Nottingham. She has over 15 years of scientific and commercial experience in the molecular diagnostic industry.
Ghada started her career working as a medical laboratory scientist where she established and managed a CAP-certified molecular diagnostics laboratory. She then pursued a PhD with a focus on cancer gene therapy and the role of a novel cancer-specific apoptosis inducing gene specifically in renal cancer. After her PhD, she completed a postdoctoral fellowship at the Cleveland Clinic focusing on prostate cancer where she developed an ultra-sensitive, real-time PCR assay for the detection of a low frequency/rare allele mutation that significantly correlates with the progression of castration resistant prostate cancer. Her MSc, PhD, and postdoctoral research projects were all published in peer-reviewed journals with the latter published in Lancet Oncology and replicated by independent groups.
Prior to joining ANGLE, she led a successful career in various technical and commercial roles, most recently as Senior Manager at QIAGEN for OEM sales in EMEA where she managed B2B commercial relationships, consistently overachieving multimillion-dollar sales targets. Since joining ANGLE as Associate Commercial Director in March 2020, she has been driving a variety of commercial and business activities whilst providing executive support.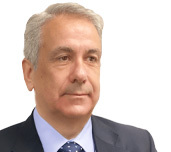 Nick Claxton
Vice President Commercial Operations
Nick Claxton is VP Commercial Operations for ANGLE plc, and is responsible for forging corporate relationships and developing global distribution networks to commercialise ANGLE's products and services.
Nick has over 35 years' experience within the diagnostic and biotech industry, having started as a Scientific Officer at Charing Cross Hospital Fulham, covering Haematology, Histology, Microbiology he specialised in Biochemistry. After leaving the NHS, Nick joined the UK premier diagnostic distributor, Laboratory Impex and was responsible for launching Bactec, an automated blood culture system for Becton Dickinson, Tecan liquid handling robotics, and AVL blood gas analysers into the UK.
Nick joined Becton Dickinson where he held the position of Business Director responsible for sales, marketing, client and technical services for 10 years. From there he moved to Roche as head of marketing, following the acquisition of Boehringer Mannheim. In 2000 Nick joined LGC (formerly Laboratory of the Government Chemist) as Director of Forensics, responsible for the 7 geographical laboratory sites along with the sales and marketing for the group. The role required direct relationships with the UK Government Home Office and the 43 constabularies of the UK and Northern Ireland.
In 2007 Nick joined the UK Board of Olympus Scientific as Scientific Director with responsibilities for the Clinical Chemistry and Microscopy divisions. In 2010 Nick became Business Director for a start-up company called Epistem, where they launched the first hand held PCR device (Genedrive) developed for field based TB testing along with other infectious diseases.
In 2015 Nick joined another start up, Premaitha Health as Chief Commercial Officer. Premaitha were the first company to achieve a CE/IVD for non invasive pre natal testing using next generation sequencing platforms.
Nick is also a non-executive director of two companies, MEMP ( Middle East Medical Portal) which helps small British medical companies enter the Middle East and Inception Associates which mentors early start ups through business planning and raising investment.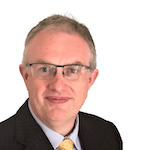 Martin Cooke
Director of Operations & Regulatory Affairs
Martin is the Director of Operations and Regulatory Affairs at ANGLE plc, a Chartered Engineer and holds an MEng degree in Electrical and Electronic Engineering from The University of Nottingham. He joined ANGLE in 2004 and first specialised in technology commercialisation and knowledge transfer projects supporting businesses, particularly involving universities and other specialist knowledge and research centres.
In his current role, Martin is responsible for the engineering product development, manufacturing processes, supply chain and support of the Parsortix product family together with the implementation of ANGLE's quality systems and the group's engagement with global medical device regulators and other regulatory agencies and notified bodies.Martin's early career was spent as a practicing design engineer in the military, instrumentation, and telecommunications sectors with particular experience in high-precision analogue measurement techniques, intrinsic safety and embedded systems. Having progressed through a number of senior technical and commercial positions, Martin became the Product Manager of a multimillion-dollar international product family at a global telecommunications equipment provider. In this role he was responsible for product concepts, new product development and market introductions, together with associated transition to stable manufacturing and supply. The role also encompassed on-going technical support for existing products and a large, established customer base. Martin has been Director of Operations and Regulatory Affairs since 2013.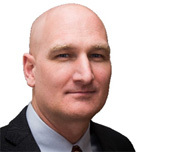 Craig Miller
Clinical Studies Director
Craig Miller joined ANGLE in March of 2016 as the Clinical Studies Director, where he is responsible for driving the clinical development activities of ANGLE. He has over 20 years of experience in the RUO and IVD diagnostics industry, including clinical trial management, clinical data management, biostatistics, regulatory submissions, and manuscript writing and editing (Craig is a co-author on over 80 peer-reviewed publications in the field of oncology and diagnostics).
Prior to joining ANGLE, Craig was the Vice President of Clinical Development at Saladax Biomedical, where he was responsible for the design, implementation, and execution of clinical studies for the validation of novel therapeutic drug monitoring assays (MyCare®) in the field of oncology. Before that, he was the Associate Director of Clinical Research for the Veridex Oncology Biomarkers team at Janssen R&D, a Johnson & Johnson company, where he was responsible for the design, implementation, coordination, and execution of clinical research and development trials for the evaluation, characterization, and commercialization of circulating tumor cell (CTC) assays and technologies. During his 12 year tenure with Veridex/Janssen R&D (formerly Immunicon Corporation), Craig was instrumental in obtaining de-novo FDA clearance of the CELLSEARCH® system and associated components (i.e. CELLTRACKS® AUTOPREP® and CELLTRACKS® ANALYZER® instruments, CELLSAVE preservative tube, and CELLSEARCH® CTC Kits). As the Director of Clinical Affairs and Biostatistics at Fujirebio Diagnostics, Inc., he played a key role in the clinical validation and FDA clearance of the MESOMARK® and ROMA® assays. Craig started his career in diagnostics at UroCor (now Dianon Pathology, a division of LabCorp), where he held positions of increasing responsibility in Research & Development for new and innovative products in the detection, prognosis, and monitoring of urologic diseases (primarily prostate and bladder cancer). Craig has a BS in Biochemistry from Texas A&M University.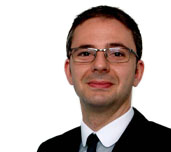 Stefan Peter
Senior Group Leader – Product and Technology Development
Stefan Peter leads the Product and Technology team. He joined ANGLE in 2014 and is responsible for the device development with doctoral and post-doctoral experience in biology and engineering. Dr Peter holds a PhD in cell biology and proteomics from Sheffield University and a diploma degree in biotechnology.
Dr Stefan Peter gained a diploma degree in biotechnology (Dipl. Ing. Biotechnology) from the University of Applied Sciences Weihenstephan (Freising, Germany), followed by a PhD from Sheffield University (UK) where he developed expertise in cell biology and proteomics. During his PhD he investigated large scale expansion of mesenchymal stem cells for subsequent proteomic characterization. He developed a method to expand primary mesenchymal stem cells in suspension rather than on a substrate and gained insight into proteomic changes in these cell cultures.
His post-doctoral research (also at Sheffield University) focused on epigenetic changes in bladder cancer. Using a commercially available microarray technology, he investigated the expression of microRNAs and long-non-coding RNAs in different stages of bladder cancer and identified a panel of potential new biomarkers, whose biological function was investigated in cancer cells lines via different genetic knock-down assays. He subsequently joined ANGLE in 2014 as Senior Scientist and helped to set up a biological laboratory to drive the development of the Parsortix technology.
As Senior Group Leader for Product and Technology Development, Stefan is now leading a team at ANGLE that drives the research and development of the Parsortix cell separation technology with a focus on device development, including both the Parsortix instrument and the Parsortix separation cassette. With expertise in biology and engineering he interlinks device development and biological assay development to ensure successful delivery of projects within ANGLE's New Product Development (NPD) process.